Kitchen Worktops Basingstoke
Professional Kitchen Worktop Services in Basingstoke, Hampshire
Kitchen Worktop Installation Services in Basingstoke, Hampshire
We are a leading provider of high-quality kitchen worktops installation services for both domestic and commercial customers in Basingstoke and Hampshire. Our team of experts has vast experience in installing and fitting kitchen worktops of all sizes, and we use the latest tools and techniques to ensure that every kitchen worktop is installed to the customer's needs and specifications.
At Basingstoke Kitchen Fitters, we understand the importance of having a well-functioning kitchen, which is why we offer a wide range of kitchen worktops to suit all tastes and styles. Our team of kitchen worktop experts is on hand to guide you through the entire process, from choosing the right kitchen worktop to the installation itself. With our expertise, you can be sure that your kitchen worktop will be installed to the highest standard, and that the process will run as smoothly as possible.
Whether you need a new kitchen worktop for your home or your business, we have the expertise and experience to ensure that your kitchen worktop is installed to your exact requirements. Our team of experts can install kitchen worktops of all sizes, from small worktops for a single kitchen unit to large, complex installations for commercial kitchens. We are confident that no job is too big or too small for us, and we are dedicated to ensuring that every kitchen worktop installation is completed to the highest standard.
We pride ourselves on our attention to detail and our commitment to customer satisfaction, which is why we are the preferred choice for kitchen worktop installations in Basingstoke, Hampshire. So, if you are looking for a high-quality kitchen worktop installation service, look no further than Basingstoke Kitchen Fitters.
Contact us today to find out more about our kitchen worktop installation services. Call us on the phone number provided, or fill out the enquiry form, and one of our experts will be in touch to discuss your requirements and provide you with a quote. We look forward to hearing from you and helping you transform your kitchen.
What kind of kitchen worktop do you need?
There are a variety of kitchen worktops to choose from, including granite, quartz, wooden, laminate and marble. Each type has its own unique characteristics, so it's important to consider what you'll be using your kitchen worktop for and what features are most important to you. Take a look below for more information on each type and find the perfect kitchen worktop for your needs.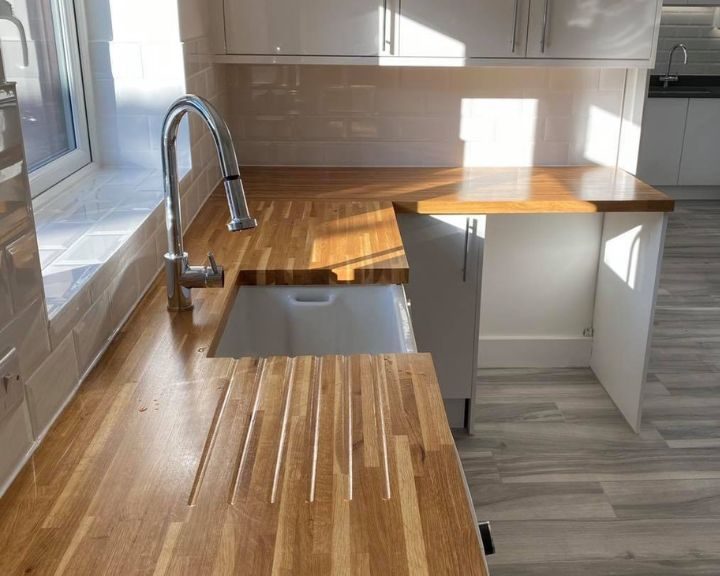 Why Choose Us to Install Your Kitchen Worktops?
Basingstoke Kitchen Fitters are kitchen worktop installation experts and have been providing these services in Basingstoke and Hampshire for many years. Take a look below at some of the reasons why you should choose us to install your kitchen worktops.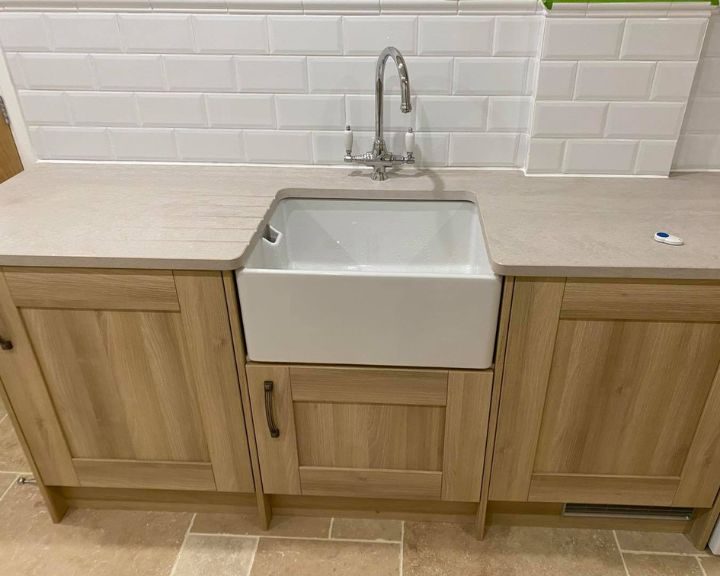 Frequently Asked Questions
Professional Kitchen Worktop Installation in Basingstoke
Our kitchen worktop installation service is a comprehensive solution that covers all your needs and requirements. We have a team of highly skilled and experienced professionals who take great pride in providing top-quality service to all our customers. Our aim is to make your kitchen renovation process as hassle-free and seamless as possible. We are confident that our service will meet your expectations and leave you with a stunning and functional kitchen.
We serve the following areas:
Aldershot         
Andover
Bracknell
Crowthorne
Farnborough
Farnham
Fleet
Newbury
Reading
Thatcham
Winchester
Wokingham
If you are looking for a reliable and trustworthy kitchen worktop installation service, look no further. Our team is available to answer any questions you may have and provide a free, no-obligation quote. Don't wait any longer, contact us today and make your dream kitchen a reality. Simply give us a call or fill out our enquiry form to get started.